20th Century: What Wives Did. Washing machines. Wringers. Hanging clothes. Diapers. Grocery shopping. Aging brings pills. Mothers buy ties even as boys become men.
After Part I directly below, see Part II - Grocerying Experiences in the 20th Century, followed by Part III - A Sneak Peek at Aging in the 21st Century, by Borrowing from a 20th Century Writer. and following that, Part IV - Still Pressing on in this New Century, Where not Everything is Going Well.
Copyright 2013 Franklyn E. Dailey Jr. (Some of this moves the action into the 21st Century)
Part I - Clothespins Were One Way to Hang
The 20th century was a momentous century. Certainly for clothespins. The one-piece, two pronged one had a tendency to split just as you were putting clothes up on the clothesline. An inventor was up to the challenge. Two pieces of wood, and a coil spring, created a big-time improvement!
But, I am getting ahead of myself. All my early experience came with the two-pronger. My Mom did get a powered wringer for her washing machine, but twice my clothes-guiding hand was swallowed part way into wringer rolls before the emergency feature separated the two rolls. So, with the hands I had left, I hand-squeezed (wrung) the water out of the clothes, and then hung them out on the line. And, enjoyed it. That was far preferable to washing dishes and having to endure my little sister pouting at having to dry them. If I hung the clothes on the line, Sis had to wash and dry the dishes!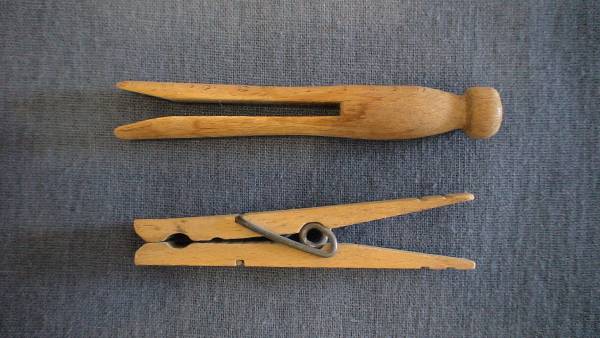 20th Century Markers
Photo courtesy of Kerry Bailey
The pairing above may not be in a class with Edison's gramophone or Apple's I-tunes, a century apart. But they certainly had their vogue. The pin at top was a marker for the early 20th Century, and the one at the bottom took care of the latter part of the century.
My early 20th century clothes-hanging experience came with general family laundry, shirts, socks, blouses, underclothes and the like. No diapers. By the time I could hang clothes on the line, my Sis, just a year behind me, was long out of diapers.
My later clothes hanging experience came with the family that developed from my marriage to Peggy Parker of Norfolk, Virginia. This time it was not my Mom I was helping, but my wife, and not my Sis who was the challenge, but a number of children, seemingly a torrent of them. Eight, to be exact. Now, (being January 31, 2012) a great great granddaughter, to go with about 20 great grandchildren and 20 grandchildren. The lady at the top of this pyramid got her fourth pacemaker in February at the age of 92.
Far from reciprocating the help I gave to my Mom by hanging clothes, she opposed my marriage. I figured out later she would have opposed my marriage to any gal. But that is another story. Peg and I began married life separated by war, then were together as a traveling couple to Naval Air Stations where I would learn to fly, and then escape briefly to the Aleutians.
Every day, or at the most every other day, depending on how many babies were still babies, how many diapers we owned, and how big our diaper pail was, I was engaged in the diaper business. I washed them on a scrub board, Peggy rinsed them in clear water, and together we squeezed out as much water as we could (our first Easy Spin Dryer came later). We then put the very damp clothes in a wicker basket for my trip to the yard. I recall three children under three-years old, but we were in the diaper business only two kids at a time.
In Pensacola, when my Navy flight training took us there, our back yard and its clothesline were alongside the railroad tracks. Active tracks. We lived alongside the Louisville and Nashville Railroad. The "L&N" to the locals. The fancy apartments adjacent to the Naval Air Station airfield, where I was in flight training, had signs, "No Children." The "children" of those signs included the embryos of pregnancy. So, back at our less convenient L&N habitat at 821East LaRua Street, in Pensacola, Florida, the challenge was to pick a time between freights, and hope the wind was blowing in a favorable direction. If the coal-fired steam engine powering the freight train altered its schedule, and the wind was blowing the wrong way, take all the diapers down, wash them again, and repeat the sequence. And hope.
But, there was a benefit to our RR track location. Across the street was a little roadside store that had a beer license. About once a month the Budweiser truck rolled up. A fresh keg of beer on tap brought out neighbors with mugs who lined up for the brew. Between tap beer replenishments, there was local beer in bottles, named Spearman's Beer. The latter's brewery had billboards around town that stated: "It's the water that does it!" Navy guys would often remark, "Oh, that's what does it." (That didn't keep them from drinking it.)
In Hutchinson, Kansas, at another Navy flight training base, the Santa Fe RR was a few miles away so no gambler's planning was needed for scheduling the wash-and-dry. In fact, with babies and diapers, 'scheduling' was a misnomer anyway. Who knew when the diaper pail would fill up? Manage the diet? Forget it! When the pail filled, came that signal moment that no man could dodge. So, we'd wash them together, and out to the clothes line I would go, with the ever handy bag of clothespins. But, there was a distinct advantage in flat Kansas. Pin up the diapers on a long line, and go back to the head of the line and take 'em down, without interruption. The dependable wind dried them fast. Particularly, the Curity diapers.
So, now we're into diapers, but when we began this story we were on clothes pins. Two different diaper designs did not have a common thread, but for this story they do. Diapers had their own evolution. Curity diapers were light, feathery when dry, and they treated baby's skin with respect. Old-standby muslin diapers were thicker, tougher, a little harder on baby's skin. But, and I hate to admit this, the tougher-on-baby's skin diapers had longer 'use per cycle.' Parents, occasionally exhausted, actually let the little darlings hold the load a bit longer, especially when the diaper was up to the challenge.
Now, just a few words on disposables. "Chux" was the tradename for the early disposable diapers. Disposables were welcomed, certainly by all couples in the Armed Services whose habitat was never certain. For those whose recall does not reach back that far, Chux would remind you of the wood fibers used to pack breakables for shipment in earlier days. Chux did not look like wood fibers but had wood's consistency. Chux may have been packing material painted white. Kind of hard on the bare bottom compared with the present soothing disposable materials being used. Chux were labeled disposable, but that is kind of questionable. I always wondered how long it took that material, well, to go away. I don't mean to imply that we always disposed of Chux in the way I am about to describe. Our entire family was not always imprisoned in a Terraplane, with no air conditioning, on a country road in Florida's mid-summer heat.
I hope I do not meet a certain driver who had to trail along behind our car in the Escambia County, Florida lowlands, in the mid-1940s. Narrow, rutted, dirt roads made it hard for a car to pass, particularly where farm animals were free to roam. Open Range it was called. I really hadn't seen that car behind us; it had come up so fast. Out the window of my Hudson Terraplane went a Chux-load. Oooops! Hit the windshield of the car behind me. At least the Terraplane had one last spurt in her. We drove off, while I watched in the rear view mirror to see how the trailing car was dealing with the surprise impact. Maybe he just drove on after the shock, thinking it was a bird. I hope so.
The Twentieth Century was full of changes, and not a few surprises. A lot of them came two at a time. I can assure the reader that the last mentioned episode was a single occurrence. I apologize, even if the urchins, now past middle age, don't understand why they should be sorry too. And, yes, to go back to that title. I know that babies came before diapers, but the diapers sooner made the babies' presence felt. It only took one baby.
Along the way I treated wife Peggy to an Easy SpinDrier and later to the full pair of Maytag washer and drier.
04/27/2010 A First Respondor File to Part I
"You certainly struck a chord.
I read the clothespin story to my mother and aunt.
They'd wrestled wringer washers, and they remembered the necessity of folding the buttons inward to keep the rollers from breaking them. (I was often similarly interrupted.)
And, their memory of clotheslines in upscale Piedmont (California), where they grew up. Maybe the laundryman or the maid hung out the clothes, but there were clotheslines behind every stately home none-the-less.
One of our neighbors, daughter of the VP of Crown Zellerbach, was the experimenter when Crown Z was getting into the disposable diaper business in the mid 40's. My contemporaries were diapered in various paper-based formulas, effectively shredded bark. I'd have been a candidate too, had not my grandmother tirelessly hung wash on a parasol-like clothesline - keeping me and the next six in Curity.
You probably could have had some more discipline, staying to your theme and making an elegant point in half as many words. But like your Flying book, which was media-appropriate for a web audience of e-mail collaborators, the digressions were a treat to these two (dare I say, elderly) ladies!
M"
Part II - Grocerying Experiences in the 20th Century (Author's Regret and a Plea: While living most of my yers in the 20th Century, I failed to anticipate my future interest in writing about grocery stores, so if you have some appropriate pix, I would insert them in this page at appropriate places and give you a byline.) franklyned9@gmail.com
Grocery Prologue: Grocery stores have been an important part of my life experience. Not a defining experience, but surely a teaching experience, and one revisited in such varied ways that I thought to revisit the subject once more. In my memoir, "My Times with the Sisters and Other Events," I told of short trips with my father from from my boyhood home to an A&P cannng factory nearby. Our purpose was to purchase cases of 'bent;n rusty' cans of vegetables, at two cents a can, to help feed our family during the Depression. This was in the early 1930s, when the downturn had hit even those families that had once been considered 'well off.' But those forays for canned vegetables with my Dad were more a trip than a visit; it was 'accomplish the mission, and leave.' Here I'd like to put the grocery experience into the retail perspective, and more often than not with the other gender's viewpoint?
Women at the Grocery Store, 1927-2012
1927-1932
I remember four grocery stores downtown in my village of Brockport, New York, in the late 1920s. My time perspective, and store observing perspective, came together, because when I reached the Fourth Grade at the School of the Nativity of the Blessed Virgin Mary, I realized that downtown was just a few steps away from school, So, somedays, I became bold enough to include downtown in a short detour on my way home from school
Mother occasionally took me shopping for food. Mr. Davis' single stall grocery on the east side of Main Street in downtown Brockport was her most frequent stop. Mr. Davis provided Mom a way to stay on the leading edge. He offered Birdseye frozen vegetables before any other store in our town of 3601 inhabitants. Since our home had one of the town's first new Kelvinator refrigerators, those packs of frozen veggies let Mother stay ahead of the pack of lady shoppers who did cooking at home. Mother was not your dedicated family cook, so sought to acquit her wifely duty with the most advanced tools that could at least keep what ladies called 'cooking,' free of backyard gossip. (Ladies of that era distinguished between baking and cooking.) No comment at all on her cooking prowess was a 'win' for Mom. Town ladies exchanged family dinner invites, and this even extended to nearby farm homes, where the competition was much tougher.
We lived on the fringe of town, on the street of homes built most recently, so our next neighbors across the farm fields behind our home were farm wives who would be the last to buy Birdseye. Farm wives had fresh veggies immediately at hand and ingenious ways of keeping them fresh. Sorry to mention this but manure was one way. But, in town, my Mom was a leader among wives who stayed on the leading edge of what was 'new.' To my young mind, Birdseye was a catchy marketing name. It was years before I discovered (and believed) that there was a man named Clarence Birdseye. (Labels use Birds Eye.)
Another one of our four downtown Brockport grocery stores was IGA, for Independent Grocers Association. We did not go there much. It was on the 'other side of the street' and a bit further from our home. But close to Mr. Davis' store was a single stall A&P store. We did go there occasionally. Not just out of a loyalty that I will explain in the next paragraph.
Remember those 'bent'n rusties' in my Part II Prologue. My Dad's father had actually owned that canning factory. It had supplied canned fruits and preserves to the western front in the "great war." Grandfather William Dailey or his estate had sold the factory to the A&P. That factory became the town's principal employer for about half a century and added an evaporated milk plant, a cider mill for vinegar, and more vegetables to the canning mix, with tomatoes now featured. Ketchup and Chili Sauce were important follow-ons although for these products, glass bottles replaced the cans. A&P added a greenhouse to theiroperation, and grew tomato 'sets' in small wood boxes, to give their contract farmers a jumpstart. Just to muddy the waters, A&Ps full name was The Atlantic and Pacific Tea Company.
Most homes kept evaporated milk on the shelf for cooking. It was not until I married and started my own family that I discovered a principal use for this product. In 1920s Brockport, fresh milk was delivered every day to every door that wanted it. But that did not persevere across our nation in later years so my wife and I bought evaporated milk by the 1940s to make 'formula' for our babies. "Carnation" and "Pet" were major evaporated milk brands and in the parts of the nation that my Navy duties took us. Brockport's "Quaker Maid" label product was rarely seen, even in A&P stores.
As the 1920s gave way to the early 1930s, Brockport's A&P retail store was still in the old single stall mode, sometimes with only the manager to help, sometimes with a clerk or two added to assist customers,. A single cash register helped check out customers, based on 'human memory' for some unit prices. Occasionally the customer provided the memory for price.
But by the 1930s, both Mr. Davis, and the A&P store , discovered forward-looking retail grocer competition right in their own block. It was Hart's Market and that store had a meat department, a wider store front, a semblance of departmentation; it was 'different' from the one stall grocery store. Hart's gave out coupons and kids could get prizes with enough coupons, one being a steel roller coaster, a very fine and durable wagon. I coveted those wagons which some of my playmates had acquired. Still, my Mom would only go to Harts when she needed Clarendon Cheese, a product that Mr. Davis did not stock. I never got enough coupons to get a wagon. Harts eventually expanded to become one of first, area owned, supermarkets in Monroe County in New York State. But, that is jumping ahead of my story.
1935-36
I was off to my freshman year at Niagara University, in Niagara Falls, New York, in 1935. This Catholic institution, run by the Vincentian Fathers, offered Arts and Sciences and I enrolled for a Chem.Eng. degree. My Dad was broke and my Uncle Don helped out with tuition money. President Roosevelt and the Congress chipped in with the NYA, the National Youth Administration. That brought in $15.00 a month that I never saw; it went directly to the Bursar. The organization known as Protestants Organized for the Separation of Church and State would be appalled that my "duties" for 15 bucks a month involved dusting the many Seminary altars at Our Lady of the Angels Seminary, then part of Niagara U.
I needed pocket money. I thumbed downtown to a Mohegan Market and got a Saturday job. Mohegan was a new kind of grocery store, larger, much more departmentalized though not yet cash-out centralized, having a register still in each product segment. Clumsy with knives, I was relegated to scooping out hamburg by the pound. I was not especially good at that as readers will discover in a moment.
One Saturday I had to see an ophthalmologist for dilation and prescription for new glasses. I was very farsighted. I worked it out to do this on my lunch hour. When I returned to my work counter, I was stunned to realize that I could barely see the white Toledo meat scales. The three fine lines I needed to line up on the scales, to ascertain the weight of the hamburg I had troweled into a paper dish, seemed not to be there at all! Being Saturday in the Depression years, the ladies at my counter were buying a steady "two pounds for a quarter" hamburg special. Dear employer, I confess now! I made sure every lady went away from my counter smiling, having paid twenty five cents for a quantity that 'seaman's eye' could tell was more than two pounds of hamburg. And for pioneering Mohegan Markets, on the good side, these happy ladies became regular, prospectively lifelong, Mohegan customers. Well, .lifelong. is too long. I will explain in a paragraph or two, but before I leave Niagara Falls' Mohegan Market, I need to cover other, somewhat related, Niagara Falls marketing experiences.
We had that one hour off for lunch. Across the street was a bar which had tables and served food. With the repeal of the 18th Amendment and its enabling Volstead Act, the administration in Washington first allowed 3.2% beer, then gradually relieved the alcohol restraint and added liquor and wine. New York State added its own restriction on these retail bar establishments. It was required of them that a stated percentage of their sales had to be in food. So, food was cheap! Right up my alley. I went in and sat at a table. A hearty lunch cost less than 25 cents! I ordered milk, and the waiters glared at me. But, me, I was doing them a favor, helping them to meet their food quota.
At school, pleasure reading involved picking up a cast-aside Niagara Falls Gazette. One day my cousin Tommy Dailey and I reading discarded sections of a week-old paper, discovered that the Shredded Wheat Company downtown offered guided tours on Saturday with a snack to cap it off. My first Saturday off from the Mohegan, Tommy and I thumbed down to the cereal plant, smug in the almost proprietary knowledge that our grandfather, a produce merchant in Brockport, had persuaded National Biscuit Company to build its shredded wheat plant in Niagara Falls for its cheap power. Our grandfather would sujpply the wheat. Many will recall the famous cereal box with layers of biscuits inside, and a grand picture of Niagara Falls outside. The plant tour was some walk, miles it seemed, mostly to view identical huge ovens. We were happy when we got to the cafeteria. Tables of four filled up and Tommy and I were ushered to a table for two. Generous portions of the wheat biscuits topped by bananas were served to the other tables. Tom and I were each served one quarter of a biscuit with one slice of banana. The message: Students from the local university are not welcome!
I ran out of money; or, my account ran out of money. I left Niagara in early 1936 and went to Rochester, New York, to live with my mother who had moved back there from Brockport upon separation from my Dad, one result of his alcohol problem. I interviewed for a job at Kodak and the opening did not develop right away. Using my Mohegan Market reference from Niagara Falls, I got a job at a Mohegan Market on West Main Street in Rochester. That demonstrated that there were at least two Mohegan Market stores!
There were actually many more. As late as 1962 when I arrived in Springfield, Massachusetts, on a change of job assignment, I discovered a Mohegan Market at a prime downtown location. That store went out of business about two months later. The saga of the Mohegan Market chain had ended. Back to Rochester, new York, in 1936.
Entering my second Mohegan Market late in 1936, I began to process my thoughts, slowly evolving, about what made those markets different from my 1920s decade in Brockport. They went well beyond the Hart's Market in Brockport. They had an extensive storefront, clearly distinguished from other storefronts in any city or town building. Inside, a Mohegan store had many island-like locations, each of which specialized in some food category. These each still had a counterperson, and a cash register. No central checkout.
My past "experience" in meats at the Niagara Falls store undoubtedly resulted in my reassignment to the meat department in Rochester's Mohegan Market. Lunching out in Rochester still bought a full course meal for 25 cents, even if alcohol was not in the restaurant's license. Competition, in hard times! But in Rochester, Mohegan's meat department had a barrel of fish. Yes, an open barrel of breaded filets of fish. Very tasty. When we were really busy at lunch time, my supervisor suggested I turn my back to the counter, and quickly munch down a few fish filets.
It had become clear, even to a young man devoid of formal retail experience, that grocery retailing was changing. I do not count my own earlier door-to-door Crowell-Collier Publishing Corp. sales of American Magazine, Ladies Home Companion, and Colliers, as engaged in building a retail operation. But, on further thought, maybe I am under representing those encounters with customer ladies at their front door, as each lady made the decision whether to buy one from that little boy.
1944-1946
This period was the beginning of my life in a new family, my own. After marriage n early 1944, return to the war zone for six more months, I joined my wife and we entrained for Ottumwa, Iowa. But it was after the next stop in Pensacola, when we received orders to NAS Hutchinson, Kansas, with one baby in tow, that my grocery store experience began anew. That was with Kroger;s. Truly a big store experience, and a lot had changed. The modern supermarket was in play.
(I'm stepping for a moment out of my grocery monologue to mention that Hutchinson, Kansas had one other notable experience. The town was on the Santa Fe Railroad and there was a Harvey House at the rail station. We tried it and enjoyed it. In that same period I also completed the first stage of my operational flight training in PB4Y-2 Privateer aircraft at Hutchinson, and following a visit to my wife Peggy's home in Norfolk, VA, entrained for flight duty on the west coast. I took the Southern Pacific out of Chicago for San Diego CA. Everyone had advised taking the Santa Fe to LA and then making a short car trip to San Diego. My Southern Pacific trip taught me that the Santa Fe had to be better.)
1946-1948
I was mostly in the Aleutians flying 4-engine patrol planes. The period was a void in major grocery store presence for my family. No major chain grocery was closer than Seattle, WA, to our "Victory Home" on Whidbey Island, at Oak Harbor WA.
1948-1951. Maryland, then California.
By 1948, coming back to a series of shore-based Navy assignments now well into the postwar, and with marriage and family building, there came a host of new grocery store experiences. We set up householding in Glen Burnie, MD. We often used a Navy store in Annapolis with extensive offerings and low prices. Big store. But, the big new Supermarkets had begun to challenge even the subsidized government operated "PX" stores. We had a brief experience with Giant Food Stores in Maryland, and will get back to them in an important later period. California brought our family experience with Von's and Safeway, two that operated within shouting range of each othe onWilshire Boulevard in Santa Monica, CA. And, there was a lot of shouting from both markets' advertising.
(the next portions await memory refresh, human memory, that is. I am stuck here because I do not even recall all the supermarkets we encountered in Santa Monica 1950-51. /Franklyn E. Dailey Jr. narrator. Maybe that "M" who added to Part I in 2010, could help./
1951-53. Eastern Shore of Maryland
No big towns in our NAS Chincoteague assignment. Pocomoke City, Maryland, was too small and Salisbury, Maryland too far away for routine trips for groceries.
1953-56 Washington DC
Concentrated use of Safeway, close, and Giant Foods. Had worked on Universal Product Code (UPC) and Giant was one of the first to provide trial runs. UPC changed super-marketing in a big way. Strings of checkout lanes were now the norm. Distributed cash register stations were a thing of the past.
1956-1959 Rochester, New York
Local chain Wegman's had won this market.
1959-62. San Diego, Caliifornia.
1962-2007. Springfield Massachusetts We see the last of the A&P A&P and Grand Union "America's Choice" Factory integration with retail stores Men in the grocery stores. Local chain, Big-Y, a serious competitor and they bought out the last A&P operation in town. Local chain Big Y had won a competitive portion of this market.
2007-Present. Atlanta Georgia area. PigglyWiggly gone from the South.
Krogers, Publix, Whole Foods are major competitors.
Costco and Sam's and BJs now a factor.
Part III - A Sneak Peek at Aging in the 21st Century, but Borrowing from a 20th Century Writer
This is what my wife and I do now. Now is 2011. I apologize to one of my favorite 20th century writers , Don Marquis, if I borrow archy and mehitabel....... 'fish oil' ....is the 'character' who now takes over this dialogue.

An off-hours dialogue finds two in conversation. (with a bow to Don Marquis)
fish oil opens the discussion and Tylenol responds.
"You, in Monday, bin #2, whaddya in for?
"Who you talkin' to?"
"I'm right next to you. I'm fish oil, the glassy one, upper left."
"Well, move over, you're crowding me. Then I'll be able to answer."
"Sure. HE dumps us all in here on Saturdays and HE is always in a hurry. Is that better?"
"Sure is. I'm new here. acetaminophen's my real name. Tylenol if you're in the big time. I just came here last week. Guy named Dr. Lane told HIM to try two Aleve and two Tylenol and come back in two weeks."
"All at once!"
"No, no,.. crazy. The two Aleves in the morning, and the two Tylenols at night."
"That makes more sense."
"Where are the Aleves? No room for anything else in this cell."
"Yes. I was awake that morning. HE tried to squeeze the Aleves in here but even HE couldn't press down on the cover that hard, so he left them over next to the toothbrush. Each morning he retrieves two of them from that white tower they come in. Don't say it out loud but just between the two of us, they're really naproxen."
"Any chance you could get him to put the two Icaps over there too. One of them presses on my spine."
"Yes. I can see your predicament. As long as HE can get the top down, HE doesn't care. B-12 is down in the bottom with Terazosin and baby-aspirin, but they don't seem to mind. I have had some contact with Icap #1 and he tells me that the two of them are hard shelled and can take the pressure."
"Yeaah, I'm squeezable, just like the fish I come from. HE treats me as a commodity. But, anyway, finish your answer to my first question. Whaddya in for?"
"Well, HE has a hip problem. As I said, HE went to HIS Doctor who told him there is no in-between, take the pain or get a new hip."
"Soooo! If there is no in-between what do you figure to be here for?
"Dunno. I can't think that far ahead. I'll be gone tonight."
"You should complain. I'll be gone as soon as HE finishes breakfast. At least you have a Brand Name. fish oil has always been generic because it never had PR like Aleve or Tylenol."
"I understand. Let me change the conversation. Did you notice the capital letters in this conversation?"
"Yes I did. I guess that's not archy hitting the keys."
"Nope! mehitabel left word that she and archy didn't hang on long enough to benefit from supplemental health pills."
"Shouldn't make any of us feel better. We're all goners every week."
Part IV - Pressing On in This New Century Where Not Everything is Going Well
Men's Ties!
An Early 2012 Sunday Tie Story
We have a new connection to the web in this household and it has revived my XP computer. When I query 'connection,' at the little box on the lower right, it fires back, "100.0 Mbps." Interesting, that, decimal zero, after the 100. But, I must move on.
What the connection means is that I can compose, then reformat into html, send the composition to our website www.daileyint.com, and then push it back down to my newer computer. Both my Dell XP and my newer Compaq Vista computer will then be in sync. This maneuver was suggested by my web partner, who plays a big part in this story.
My web partner of many years (about as long as the web itself) has had his proprietary writings decimated by two uncivilized, unprincipled, unlegal world-based attacks. First, Google introduced a new search algorithm in the spring of 2011. One effect was to remove a high percentage of search "arrivals" at our website because new Google search engine searches were now directed elsewhere. In addition, my partner learned that our website had been labeled by Google to be of 'low value.' The high judge had spoken, and there seemed to be no recourse. If I went out into the public square and declared a local merchant's wares of low value, that merchant would be able to respond.
Secondly, over the years of webbery, information theft has boomed into a crescendo of worldwide snoopers who decide to steal rather than to create. My partner has been hurt far more than I have been hurt. I hurt less because I have far less exposure.
My partner did not hide in a bush and sulk. He has tried to reason with Google. He is actually cooperating with Google in a copyright theft counterattack. My partner is far more rational in his approach than I might have been, had I the 'smarts' to engage in defense of my property. He has written an analysis and an aid plan for those who, like him, have been aggrieved, and packaged it into an e-book. I have appreciated his approach to the extent my acumen will allow. All of this is serious prologue to a minor discovery I made this morning as I dressed for Sunday Mass
I try to entertain when I write. Please understand that what I am about to relate involved 'discovery' for me. I treat it in light vein because that is the way I evaluate it. It is not offered to 'make light' of the very serious copyright matter now abroad in the world.
My Mom had a keen eye for style. Not just ladies' style, but men's styles too. She took it upon herself to supply me with clothes from Best & Company when I was growing up. That took a little effort on her part. We did not live in New York City, where Best was located. But, alert to opportunity, Mother's style magazine diligence informed her that Best & Company annually came to Rochester, New York, the city nearest the village in which we lived. Without any hesitation, when Best came to Rochester, Mother took us to Rochester, too. And we (my Sis and I) were clothed in the best of Best, and for me, in as close to Britain's "English" style as possible.
Mother did not give up easily, and decided, that in my adult years, despite any potential 'feelings' of my wife, Mother would buy my ties. Rochester had some good men's clothing stores. One down near the city's Four Corners specialized in Hickey Freeman suits, Arrow shirts, and, well, you get the drift, the best selection of ties. This store had a very large tie inventory at all times. Every tie on my tie rack has come from my mother's selection. I never had to send one back. I am not sure if the salesman enjoyed the loyalty my mother felt for her only son. (I had one sister, and she always told anyone who was in earshot that "my brother was an only child.")
I accompanied my mother often enough to be able to picture what occurred on every visit to the men's store. After picking several ties for style, mother would take one end in her right hand and one in her left hand, and attempt to pull the tie apart! If the tie puckered or wrinkled in the slightest, she would hand it back to the salesman. I look at my ties today, and can credit Mother with great taste, and wonderful breadth in her selections. I have at least 5 ties for every occasion. All, very tie-able.
This morning, I was dressing for Mass, with the basic upper outer garment a striped shirt. Dark blue stripes on lighter blue background. The striped ties were eliminated immediately. The dark ties would not do. Needed, a tie with a bright background, incorporating a design that would go with a maroon sweater worn under a sport coat. That brought it down to two ties, and there they were, next to each other on the right side of the rack. One had a bright yellow background, and the other a more muted yellow. I looked at the red flower design on one, and then the other ...what is this...the same repeated red design on both ties! Don't tell anyone, but have we come across a copyright problem!
What the reader may not fully appreciate, even with my great photo above, is that we have two ties, with very similar designs. The background yellows are not quite the same hue. But the little designs on the yellow backgrounds approach the conclusion, 'very similar.'
The tie on the right is a Rooster, and the one on the left bears the mark, Egon von Furstenberg. The repeated design on the latter is made up of reds very close to the designs in red in the design on the Rooster, and both repeated designs accentuate their centers.
Now, examining more closely, the Rooster's repeated design is rhombic in outline, and von Furstenberg is rhombicky, but even my fading eyesight tells me that it has only one perfectly straight side. These tie designs are not identical
If just a bit closer, would such similarities be plagiarism? Ooops, how did that word creep in? "To take and use the ideas or writings of another." That's American Heritage Dictionary's definition. So, the artistic designs of the ties do not appear to be plagiarism, not 'ideas or writings.'
Is copyright limited to writings? Copyright implies ownership that may be supportable by law. So, if you extensively plagiarize writings that have been registered as a Copyright in the United States, you can obtain relief through the courts of this country if you can prove your case.
Yes, that is the Dell XP in the lower left of the photo, and, at the top, the upper frame of my Envision monitor is visible. Approaching a decade of use for these. The Envision is the best monitor I have ever used, and Windows XP supports Photosuite III software that was never upgraded for Vista or Windows 7. I am reluctant to leave this computer for many reasons.
P.S. Having seen me past adulthood, I learn from the next photo that Mother dipped down to her grandsons with her gifts of ties. This photo came from my son, Thomas Dailey in Connecticut after he realized from my web page what I was up to. Obviously, no question of 'borrowing' here.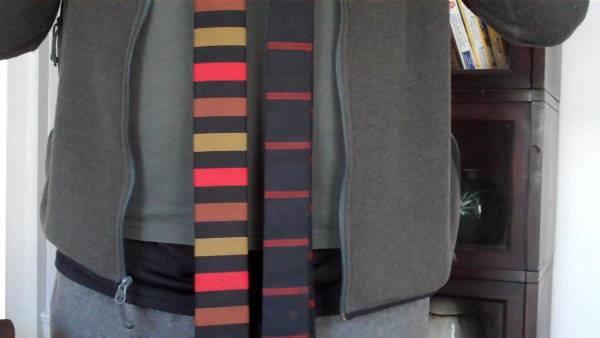 I am informed that this photo includes a Mustang and a Rooster.
Home | My Times with the Sisters | Book Order Options