-------
.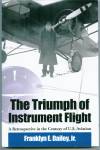 Read The Triumph of Instrument Flight
Anzio stalemate broken. HMS Penelope lost. Rapido crossed; on to Rome. Southern France gets Allies on track to VE Day. French cruiser Emile Bertin joins the fray.
A Malta Memoir, then Allied Aircraft from WW II; A Short Picture Reprise
Copyright 2013
Ships and Aircraft of World War II(many photos from U.S. Navy WW 2 Recognition Training Slide Set)
Operation SHINGLE, the diversionary amphibious assault at Anzio, was planned to link up with General Clark's Fifth Army poised to march from Naples on to Rome. The Anzio assault began on January 22, 1944. Over 60,000 British and U.S. troops were committed there. The early phases went well. But Marshal Kesselring had an ace or two up his sleeve and managed to position heavy troop emplacements so that they could be used to fend off Clark and still blunt the Anzio amphibious assault. German aircraft with their guided bombs began to dish out punishment. On January 28, 1944, HMS Spartan, a British cruiser anchored close to the shore at Anzio took a hit, fire raced through her structure, and very quickly she capsized and sank. Three British destroyers went to the bottom during the Anzio campaign.
By the 10th of February 1944, the Allies had been stalemated by the Germans in the Anzio pocket. According to Morison in Volume IX of his History of United States Naval Operations in World War II, "Several news correspondents at the beachead 'took off, wishing to avoid another Dunkirk,' and spread the alarm at Naples" about the "sense of desperation" among the Allies at Anzio. It would take until late May and early June of 1943 for the Allies to break out of the Anzio pocket and join with Clark's advancing Fifth Army and take Rome.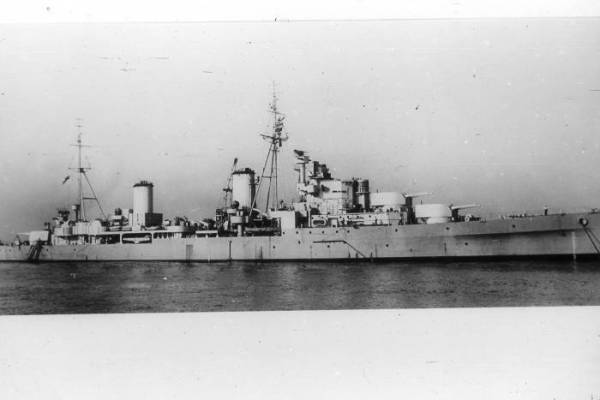 The British cruiser, HMS Penelope
My ship, the U.S. destroyer Edison, assigned to DesRon 13, was engaged on D-day at Anzio. Edison was often assigned to screen HMS Penelope during transit to or from the assault area or during actual shore bombardment operations. After many days on station at Anzio in the firing zone, British and U.S. warships would be sent back to Naples to replenish ammo and supplies and give the crews some rest. When Marshal Kesselring would get serious about pushing Allied forces back into the sea at Anzio, calls would go into Naples to bring up some firepower. Destroyers would usually proceed on the Naples-Anzio run alone, using speed and sonar as their defense. Less nimble, a cruiser would be assigned one or two destroyers as an ASW screen enroute to the firing area. On the 18th of February 1944, Penelope was sent alone.On that rare occasion when Penelope did not have a destroyer assigned as her escort, a U-boat took aim and fired. HMS Penelope joined many British and U.S. ships on the bottom of the Mediterranean.
U.S. Destroyer Losses in Mediterranean Operations
U.S. destroyer Maddox was lost at Gela on D-day in the Sicily assault in July 1943. The USS Rowan blew up right abreast of my ship as the two destroyers were helping a convoy of depleted ships get ready to return to Oran on September 10, 1943. Her survivors were picked up by the USS Bristol, another destroyer assigned to DesRon 13. Bristol herself, while defending a convoy in the Mediterraanean, was sunk just a month later by a U-boat. In this same October 1943 period, the USS Buck, DD-420, the first squadron flagship of DesRon 13, was lost to an acoustic homing torpedo fired by a U-boat off Naples. The destroyer USS Beatty was lost to air attack defending another Mediterranean convoy later in November 1943 and the destroyer USS Lansdale was sunk in a similar attack while defending another convoy in April 1944. U-boat torpedoes including homing torpedoes, torpedoes launched from German aircraft, guided bombs and guided glider bombs launched from German aircraft, and just plain bombs dropped by German aircraft were all in the arsenal for attacks on Navy ships.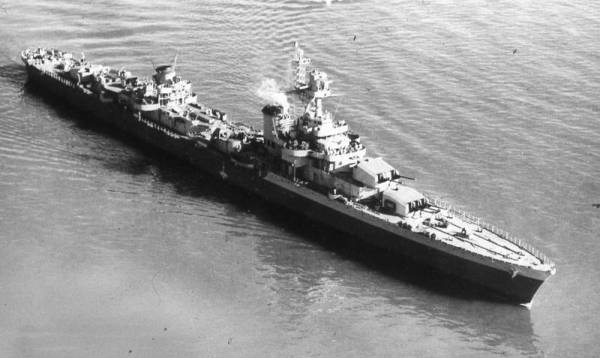 The French cruiser Emile Bertin
The beautiful French cruiser, Emile Bertin, shown above, was on the firing line at Anzio during the breakout and joinup with the Fifth Army on the way north to Rome in May and June 1944. This warship would be battle tested and ready to do her part in the Southern France invasion on August 15, 1944.
For the landings in Southern France, my ship, the USS Edison DD-439, would be part of a task force whose flag was on the U.S.cruiser Tuscaloosa.
The successful invasion of Southern France gave Supreme Allied Commander General Dwight D. Eisenhower the ports of Marseille and Toulon, although the latter port would need extensive clearing of the French Fleet sunk when the Allies invaded Algeria and Morocco in North Africa, and the Germans would from then on no longer tolerate a neutral Vichy France. All of France had then become occupied and the French Navy commanders decided to scuttle their fleet in Toulon to avoid its use by Germany. Eisenhower also gained a new 7th Army under General Alexander Patch, which marched north from the invasion area of the Gulf of Cannes to link up with British and U.S. forces moving east from their successful Normandy invasion. For myself, as Gunnery Officer of the USS Edison, we were challenged by a four gun 88 mm battery, radar controlled, at San Remo, Italy. It was my last combat operation . This occurred at the end of September 1944. That battery could outrange a destroyer and it almost sank the Edison and the USS Woolsey, DD-437. Both destroyers fired back but we had no spotters ashore and could not really see where that battery was located. We escaped using all the chemical and engine smoke we could put out to at least cloud our course and speed which we changed violently. But it was a close call. Examining ship logs in 1985 at the National Archives on Pennsylvania Avenue in Washington DC, I was surprised to discover that my hand was on the trigger of the main battery for the last shot Edison fired in anger in World War II. She would go to the Pacific but the war ended just as Edison made it to Saipan. Edison had been re-gunned three times during the war. She had fired enough.
France was about to be made whole again. The Vichy French would rejoin the Free French under General DeGaulle who returned from Britain. The colonial French forces from Africa had already contributed to Allied Mediterranean success and spearheaded the return to Southern France . There was still much pain to endure, not least the Battle of the Bulge in December 1944, but Europe would be relieved of the scourge of Hitler by May of 1945. Britain, France and the United States were joined once again as they had been in World War I.
I had been a small part of this wartime alliance. I have one unique memoir from more than two years of working with the British, occasionally as a guest on such ships as HMS Delhi and HMS Colombo. In the beginning, an Ensign reporting to a U.S. warship must put in "his stint" as Wardroom Mess Officer. Senior officers sometimes work this menial and 'testy' duty pretty hard. One Executive Officer liked Baked Alaska and cranberry ice cream. My ship, the USS Edison, DD-439, was built before ice cream machines were part of a destroyer's equipment. Any kind of iced dessert required ice, salt, and a lot of hand/arm exertion. Our Mess Attendants had to endure this work and as their OinC in the wardroom mess, I interceded sometimes to spare them this effort. Since the Exec presided over the officer's mess underway, while the Captain remained on the bridge, the Captain would be unaware of how hard the Exec might be "leaning on the system" and I had no other officer to help me stave off the pressure. Once, in Brooklyn, the Chief Steward found a sack of cranberry powder mix and then served it every meal until the Exec. finally said "Uncle."
Just before Christmas in 1943, in the Gran Harbor at Malta, I was sent ashore to obtain some liquid refreshment for an officer's party planned in a local nightspot. I went to NAAFI, the British Navy, Army and Air Forces Institute, the supply branch for the British armed forces. They had a storefront downtown and some wares on display. I represented myself as being from the HMS Edison. The manager knew better, but issued me one bottle of scotch and one bottle of gin for each officer in the Edison mess. I had to send for help to carry it, but I was an 'immediate hero of the day.' On the way out of the NAAFI store, the British manager whispered in my ear, "Reverse lend lease!" Below are the tax stamps that the NAAFI manager issued on my "sales slip."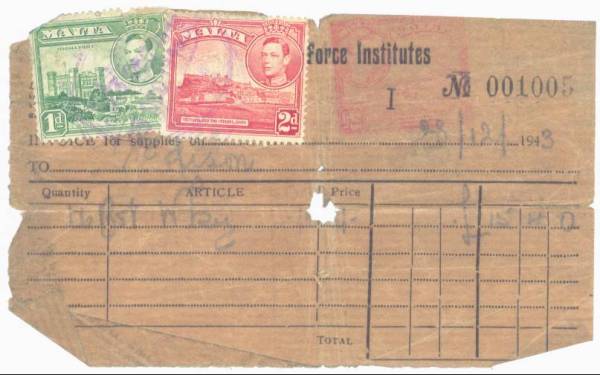 "Reverse Lend Lease"
In the Italian campaign we occasionally saw the Lockheed Lightning P-38 fighter/bombers pictured in an earlier panel in this series. An Army Air Corps pilot veteran of the Italian campaign has commented that I failed in the first offering in this set, which went up on this website on September 8, 2005 (the 62nd anniversary of the Salerno landings), to credit several other close support Air Corps aircraft. So, with the lame excuse that we offshore on Navy warships rarely saw these aircraft, I now include in rapid order: the P-40 Warhawk, the P-47 Thunderbolt, and the P-51 Mustang. Please recall that these black and white photos came from the U.S. Navy's Recognition Training Slide Sets. Whether some of the pictures were made deliberately blurry to challenge students like me, I do not know.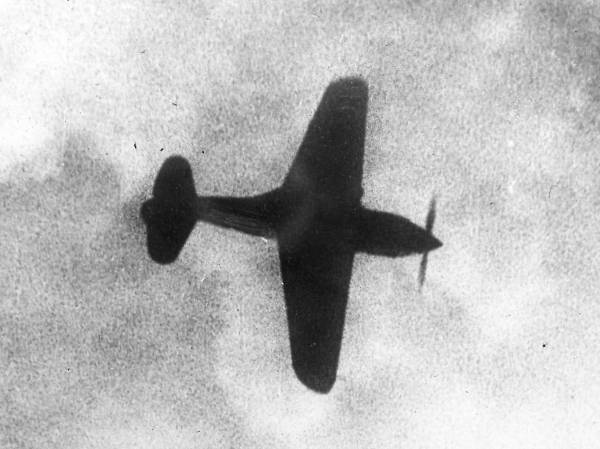 The P-40 Warhawk-The Flying Tigers Made It Famous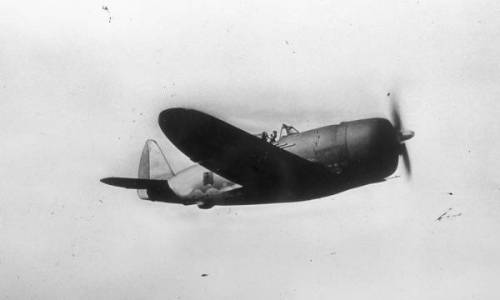 The P-47 Thunderbolt-Its Big R-2800 P&W Engine Gave It Staying Power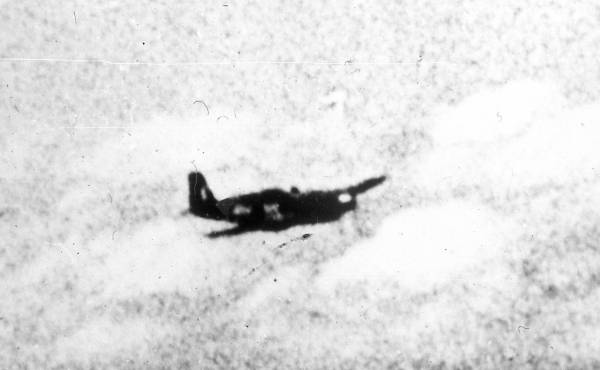 The P-51 Mustang-Its Range and All-Around Capability Earned Its Premier Rating
An unusual event occurred for me on December 5, 2005. I was invited to attend a 60th Anniversary commemoration ceremony for the loss of Flight 19, five TBM Avenger aircraft that left NAS Ft. Lauderdale about 2 p.m. on Dec. 5, 1945, and were never seen again. I had just received my Navy flight wings in October 1945 at NAS Pensacola, Florida and had been ordered for temporary duty at NAS Banana River, Florida (now the Patrick Air Force Base). On December 6, 1945, our training commander told us that our training program on the APQ-5B bombsight was being interrupted so that we could go out in PBY-5A Catalinas and search for the missing Flight 19 aircraft and crews, 14 men in all. The night before, a Navy PBM had gone out on the search and from best witnesses, exploded and crashed offshore, with another 13 men missing. From the blister of a PBY-5A, accompanied by Lt. "Barney" Rapp, a Naval Academy classmate, manning the other blister, each of us armed with 7x50 binoculars, we put in 4-5 hours per day for the next three days, searching. We never found even a bit of wreckage or a life jacket. Two or three years later, Barney Rapp(who became a Vice Admiral USN) and I discovered that one of the TBM pilots was Captain George Stivers, another Naval Academy classmate of ours. (Class of 1943, graduated June 1942, first three year class of WW II) George had survived the ordeal of the Guadalcanal landings and occupation, came back to the States, got his wings, and was lost on a simple training flight. The Flight 19 story is covered, with enhancements, on the History Channel, titled "Decoding the Past. Mysteries of the Bermuda Triangle." That began airing on Dec. 8, 2005 and is still being shown (March 2006). If you can persist for 47 minutes into the 2-hour documentary, I appear in three or four clips.
Pictured next is the original Grumman TBF Avenger. I do not have a photo of the General Motors built TBM Avenger, but having been made to the same plans, parked next to each other on a ramp, I would not be able to tell one from the other.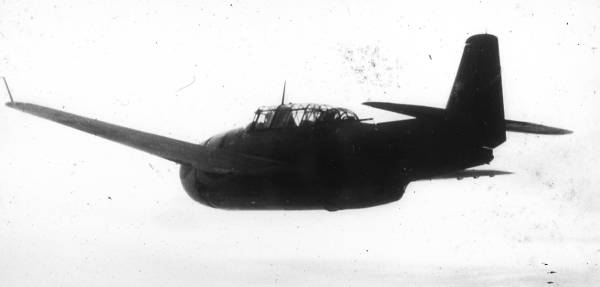 The Navy TBF Avenger- Squadron Torpedo 8 at Midway Had These
This concludes a series in which ships and aircraft of World War II are featured. We will be regularly adding photos from the 600-glass slide collection, U.S. Navy Recognition Slide Set for World War II. You will see ships and aircraft you may not have realized existed. Every man aboard Navy ships inWW II practiced recognition every day, as these slides were flasshed on a screen in a darkened room for all off-watch personnel. Sharp eyes, then, on watch could better identify an aircraft as 'friend or foe.' I will be adding hundreds of slides to these pages from that set still in my possession. Franklyn E. Dailey Jr. Capt. USNR (Ret.) Aboard USS Edison DD-439 July 42-Oct. 44, as Gunnery Officer January-October 1944.
A Personal Note: I went to flight training at NAS Ottumwa Iowa arriving there in early October 1944, after a transatlantic flight from Port Lyautey, with stops in the Azores, Newfoundland, and a landing at NAS Patuxent River in Maryland. My 'seat' in that DC-4 (Navy R5D was the corrugated aluminum deck of the after cabin, not even shoulder straps. After Primary Flight training I had completed about 100 flight hours in a Navy N2S Stearman aircraft. It was now early 1945 and the war in the Pacific was still raging.
My Dad sold me his Hudson Terraplane and I went to Rochester N.Y. to pick it up. I had to get a driver's license! Then I headed south in my new car to pick up my bride of 6-months, nee Peggy Parker, who lived in Norfolk Va. I made the auto trip without stopping for sleep. I made a wrong turn south of Washington DC, and ended up at Yorktown, Va., the locatiion of a famous battle in the Revolutionary War. I kept driving until I was forced to come to a dead stop! Water!! It was about 2 a.m. the next morning. I was at a ferry boat landing that served a car-ferry, now clearly visible even in the dark to sleepy eyes. It was the ferry to Norfolk!. I congratulated myself on my dumb luck and got out of the car and knocked on a door on the ferry boat.
Angry voice! Shouting through the door, a voice said it was the Captain of the ferryboat; he was sleeping, and the ferry left for Norfolk at 7 a.m! I apologized and retreated to my car to doze.
Shortly, I came back to life. I could hear a low .low buzz in the distance. I peeked out and could see a dim pair of headlights. The drone drone of buzz noise slowly increased in sound. That pair of lights got closer. With my now-revived night vision I could make out the vanguard of a long Army convoy, with a jeep at its head. The convoy stopped at the ferry landing just alongside my car. I motioned to the Army Captain in the jeep.
"The ferry skipper doesn't like being awakened. He told me the ferry leaves at 7 a.m. on schedule for Norfolk.".
The Army Captain did not waste any time waking up the ferry skipper, who was just as riled as when I had awakened him.
There was some gesticulating. Lights went on in the ferryboat. The Army Captain came over to me. " Sir!You were first. You drive on right up to the bow, and my convoy will follow."
I did. And they did. And we were all on our way to Norfolk at 4 a.m.!
The Army contingent would board a transport leaving for the Pacific war. The ferry captain had been trumped by the Army Captain!
Next in this series of pages, in two installments, short-titled USS West Point AP23 War Cruise-part 1, and USS West Point AP23 War Cruise-part 2, a U.S. Navy Quartermaster's eyewitness account of a cruise that sailed all the combat oceans of World War II and visited, more than once, every battle zone. When the West Point's remarkable story appeared in newspaper form in two installments in the Springfield (MA) Republican in late 2006, it was entitled "The First War Cruise of the USS West Point AP-23." Following the two segments, here, of the cruise of the USS West Point, is a remarkable third installment, Singapore, Fateful Stop on Joan's Journey. An Austrailian man, who had been reading the two episodes here of the USS West Point's historic war cruise, made a remarkable discovery. He had been writing his own mother's WW II wartime story, and had come to her travel to Singapore to be near her British Navy Officer husband serving on the HMS Prince of Wales, while she worked in a British government office in Singapore to help fill in the hours he was at sea. Sad, brave.and carrying this future author-son in her womb, this young lady escaped the Japanese at Singapore, and he, the son to be, figured out from reading our two West Point segments, how she managed the one link in that escape in which her alternatives had shrunk, possibly to just one.