SS America, converted to USS West Point AP-23, makes first war cruise in convoy WS-12X. Escorts USS Vincennes and USS Quincy later sunk by the Japanese. HMS Dorsetshire takes over Indian Ocean escort duty at Capetown
The WS convoys were "Winston Specials" helping Britain before and after U.S. entry into the war
Copyright 2011
We now turn to storytelling with the original story told by John Dion, a young Quartermaster on USS West Point, moving through early WW II hisory, along with other transport ships and escorting warships, transorting both military personnel and near-helpless humans caught in the throes of World War II.
The first leg of the first war cruise of the transport, USS West Point (AP-23), from Halifax NS to Capetown SA, is covered in this page www.daileyint.com/wwii/picwar12.htm. WS-12X got its name from a series of fateful WW II convoys originating with the Admiralty, with its WS nomenclature deriving from Winston Special. As many readers will know, WS were the initials from famed WW II British Prime Minister, Winston Churchill.
The final legs of West Point's first war cruise are covered in USS West Point AP-23 (SS America) sails WW II seas; Halifax, Bombay, Singapore, Batavia, Ceylon, Basra
A drama that began while West Point and other transports were under Japanese air attacks at Keppel Harbor, Singapore, is told in Prince of Wales and Repulse sunk off Malaya; widow leaves Singapore on USS West Point (AP-23) ex SS America This story, is titled "Joan's Journey." Its author is Henry Reid.
Background: The WS series of convoys were known as "Winston Specials." Over 20 in number in 1941, and organized during the U.S. prewar 'neutrality period,' with Britain already fully engaged in war against Germany, these mostly Atlantic originating convoys were Britain's lifeline to her colonies, many of which would normally have been served by ships transiting the Suez Canal. With that avenue blocked by German/Italian dominance of the Mediterranean, routings took the long southern route, to Capetown, then north again in the Indian ocean to reach countries like India and Egypt. WS-12X involved a heavy troop component, and did not originate in England (though its troop component did) but at Halifax NS. Entering the Indian Ocean, in a redesignated convoy, U.S. transports West Point and Wakefield, carrying British Territorial troops, were redirected by the Admiralty from Basra, as their destination, to Singapore, via Bombay. Those British Territorials aboard West Point and Wakefield, numbering over 10,000, disembarked at Singapore, just as the peak of the Japanese thrust to take the island was being mounted. The change in original troop destination orders,was a reaction to Dec. 7, 1941, to the Japanese thrust south, coterminous with their successful attacks on Pearl Harbor and landings in the Philippines. Singapore is revealed to be so large in Britsh thinking that the leadership (PM Churchill and General Wavell) was unable to consider cutting its losses, but in fact was compounding them.
Let me give a little preamble to the USS West Point and its first war cruise. The reader will meet some real people just as the author met them.
U.S. Navy assembles crew to man SS America as she becomes USS West Point AP-23
John Dion, a Massachustts resident of draft age, became a member of the 12th Fleet Division at the Springfield Reserve facility on Hickory Street in Springfield, Massachusetts, on March 27, 1939. Within six months, Germany had invaded Poland on Sept. 1, 1939. Britain and France went to war with Nazi Germany, and World War II had begun.
Dion's enlistment took place in a setting steeped in U.S. history, adjacent to the Watershops facility of the Springfield Armory complex, a heritage from the founding days of the United States. The Armory dates from 1794; its Watershops' complex dates from 1855. The Watershops' mission involved mechanical operations that created gun parts for the rifles made by the Armory. Machining was enabled with direct hydro power in the years before electricity. That power to turn metal-shaping tools was created at a dam on Springfield's Mill River whose flow raced to join the Connecticut River on the southern fringe of Springfield, Massachusetts.
John Dion's first Reserve training cruise began when an all-Reserve fleet of four World War I-vintage, four-stack, U.S. Navy destroyers, departed from the Charlestown Navy Yard, Boston, in the summer of 1940. Dion sailed aboard the USS Shubrick, a ship that later became HMS Ridley, one of the 50 destroyers which were part of President Franklin D. Roosevelt's swap of destroyers in exchange for leases to use British sea bases.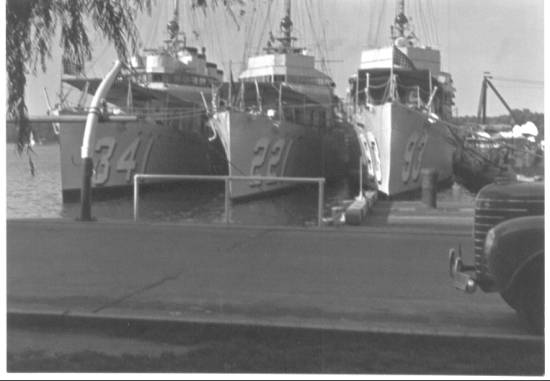 Three U.S. WW-1 "four-stackers" shown at a U.S. Naval Academy berth in 1939
For Dion'ss first week aboard destroyer Shubrick, he was assigned the most menial shipboard duty, mess cooking. During that cruise to Washington D.C. through the Cape Cod Canal, to the Atlantic Ocean, Chesapeake Bay and Potomac River and on to the Washington Navy Yard, he progressed from mess cooking to duty as bridge lookout and messenger.
In civilian life, Dion worked as a detailer in the drafting department of Package Machinery Co. in Springfield. One Friday in April 1941, he was told that he had a visitor in the lobby. His visitor was Ed Moore, Navy yeoman first class, who handed John his orders to active duty: "Report to the battleship, USS Texas, BB-35, at Newport R.I., in three days."
Dion packed up his drafting tools, bid goodbye to fellow employees, and proceeded home to explain the call-up to an astonished family. On the following Tuesday, a group of 20 young and excited reservists, led by Navy Coxswain Ray Reed, mustered at Springfield's Union Station, boarded a train to Worcester, and then transferred to a bus bound for Newport, Rhode Island.
Aboard the Texas, he was to be trained in a gun crew for expected Armed Guard service aboard a U.S. merchant ship. Dion was now on active duty without ever having gone to boot camp.
He trained as a "hot shellman" on a 3-inch, 50-caliber, dual-purpose gun, weaponry that often saw service in WW II on the stern of U.S. merchant ships with Armed Guard units.
After extensive work on a gun-loading machine with no live firing, Dion was ordered to the Naval Training Station at Newport. There, a contingent of 400 men, mainly Naval Reservists from New England, received orders to Norfolk, Virginia. The New England Reservists, along with others from Pennsylvania, boarded the ocean liner SS America, flagship of the U.S. Lines, then in the process of becoming the USS West Point.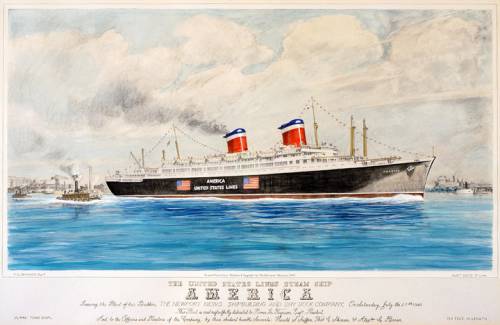 The Skinner Lithograph of SS America
That ship would become Dion's home for the next three years! It was commissioned into the U.S. Navy on June 15, 1941. As the West Point, she sailed from the Chesapeake Bay in early July to New York City. On a U.S. State Department mission, she then made for Portugal, to repatriate 137 Italians and 327 Germans from consular duty in the U.S.; she arrived in Lisbon on July 23, 1941.
At dockside there were stirring band tunes and heel-clicking Nazi salutes. West Point then embarked 321 U.S. citizens and 67 Chinese citizens for passage to New York, arriving Aug. 1, 1941. The objective was the repatriation of U.S. citizens. West Point also took aboard the Chinese citizens returning from duty in Europe's embassies where Japan's role as part of the Axis powers made the Chinese persona non grata.
After four days of liberty for West Point's crew in New York, the ship was sent back to Newport News, Va., to have her troop carrying capacity increased to 6,000. All sea travel would now require "darken ship." It would be four years before a U.S. warship would steam the oceans again with running lights.
Next for West Point came underway training exercises conducted with two other ex-U.S. flag ocean liners, the USS Mount Vernon ,and the U.S. Coast Guard-manned, USS Wakefield. Dion, promoted to seaman second class, joined a deck division and was assigned to a boat crew while he studied to become a seaman first class.
On November 3, 1941, West Point's crew was assembled and told of an upcoming cruise in dangerous waters. Putting to sea with Mount Vernon, Wakefield, and the Orizaba, another converted passenger liner, the West Point headed to at Halifax, Nova Scotia.
Also arriving in Halifax in early November days, were British transports escorted by U.S. destroyers that took over convoy duties at a mid-ocean handoff from the British Navy. Aboard was the 18th British Division of the 2nd Territorials. On Nov. 8 and 9, the West Point took aboard 241 officers and 5,202 men of the 55th Brigade, consisting of the 1st Battalion Cambridgeshires Regiment, 1/5 Battalion Sherwood Foresters, and 5th Battalion Bedfordshire and Hertfordshire 'Beds and Herts,' along with 100 men from a U.S. Army Field Service company. About 20,000 British military personnel went aboard five U.S. troop ships those two November days.
The battle-equipped Territorials on West Point would be taking two meals a day, 1,600 men at a time, all standing.
A small fleet headed south into the Atlantic on Nov. 10, 1941. The convoy now included attack transports USS Leonard Wood and Joseph T. Dickman. Warship escorts joining at sea included the U.S. aircraft carrier Ranger, heavy cruisers Vincennes and Quincy, plus U.S. destroyers from three different divisions. The Navy oiler Cimarron joined on November 19 to refuel the destroyers during long South Atlantic segments.
The convoy's anti-submarine warfare screen consisted of eight U.S. destroyers, Wainwright, Moffett, McDougal, Winslow, Mayrant, Rhind, Rowan, and Trippe.
As the ships entered equatorial waters, 300 soldiers aboard West Point became ill. By Port Au Spain, Trinidad, the sick numbered almost 600 as West Point anchored on November 17 and took on fuel and stores. By this time, those aboard knew the next destination would be Capetown, South Africa.
The convoy headed further into the South Atlantic. Dion left his deck division on December 2, 1941, to report as a quartermaster-striker in the Navigation Department. His new mentors would be experienced officers who had shifted from the Merchant Marine to the Navy. He had also just completed the first of what would be 30 wartime crossings of the equator aboard West Point!
Deep in the South Atlantic, the U.S. carrier Ranger, escorted by U.S. destroyers Trippe and Rhind, departed the convoy. Cruisers Quincy and Vincennes had been released earlier. (Ranger, Quincy and Vincennes would be heading to duty in the Pacific.)A storm that punished the escorts more than the transports delayed the convoy off the coast of South Africa.
By the time the convoy reached Capetown on Dec. 9, 1941, the U.S. and Britain were at war with Japan!
Aware that the Japanese attack on Pearl Harbor had occurred on Deember 7, dock hands at Capetown inquired of West Point's crew, "How did you get here so quick?"
Dec. 10, one day after WS-12X arrival at Capetown, Germany and Italy completed the deadly alignments of World War II, declaring war on the United States. On December 10, 1941, far east local date, Japanese aircraft sank HMS Prince of Wales and HMS Repulse.
SS America in war clothes as USS West Point AP23
Short cut to John Dion's part 2 of this voyage. But, this became a three part story!
So, I suggest you read picwar14.htm next. You will discover what a web-reader discovered when he read the full two-part story of USS West Point's First War Cruise. This reader then intervened to tell me a story only he could tell. He was able to add a third part of the story of the USS West Point's First War Cruise, a part that originated in time just days before the USS West Point arrived at Singapore. This reader, now living in Australia, tells how his mother shipped aboard West Point, and how she and West Point and Wakefield cruised the next leg of their respective journeys, escaping the Japanese.
None of these tellings would have occurred without Quartermaster John Dion's original story. Adapted by Franklyn E. Dailey Jr. Capt. USNR (Ret); Revised August 4, 2011.