WW II U.S. Navy cruisers and their floatplane aircraft performed combat recon duty at Casablanca, Sicily, and Salerno. The SOC is a major player.
See the USS Pasadena 'recover' its OS2U "Kingfisher" floatplane.
U.S. battleships had floatplanes too. See one on display on the USS Alabama when you visit Mobile. Photo below.
Copyright 2013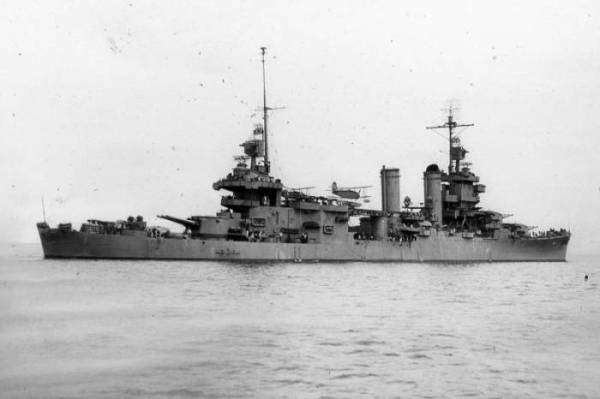 USS New Orleans, CA-32
The USS New Orleans was the next heavy (9 eight inch guns in three turrets) cruiser built for the U.S. Navy after the USS Augusta. New Orleans did not serve at TORCH but is shown here because she provides a good view of the neat little SOC floatplane aircraft on the catapault, amidships, aft of the second stack. This type aircraft actually flew as part of combat operations from Augusta during TORCH operations at Casablanca, November 8-11, 1942. The observation type aircraft like the SOCs and the OS2U Kingfishers (see a recovery at sea of a Kingfisher floatplane below) on cruisers and battleships, were launched off catapaults (energized in the early days by black powder), and recovered by landing in the calm slick (knuckle) created by the recovering ship when it makes a hard 90-degree turn. This was high seamanship and I saw it at close hand when I served as a Midshipman on the USS New York in the summer cruise of 1940. It required intimate coordination between the recovering ship and the aircraft.
New Orleans and her six sister ships fought the war in the Pacific. Of the six, Astoria, Quincy and Vincennes were lost in the Guadalcanal campaign. In Augusta's group of six, three, Houston, Northampton and Chicago were lost during the war.
The heavy cruiser, USS Wichita CA-45, shown in a later page in this series, was the first in the heavy cruiser class to put hangar, catapault and recovery gear at the stern. The light cruisers (six-inch guns, but more of them, see USS Pasadena story next below) that were subsequently built for the Navy, adopted this configuration. USS Brooklyn, USS Philadelphia and USS Savannah, all active at TORCH and in later Mediterranean combat landings, had this improved aircraft handling configuration.
Recovery at Sea
Much of what is found here, 'above the fold' (see dotted line below) is taken from experiences the author (see books pictured) had during World War II, culminating in duty as Gunnery Officer of the USS Edison, DD-439, which likely fired more rounds of 5:38 cal. ammunition than any destroyer in World War II. Edison was regunned three times while I was aboard.
Sometimes readers send in stories of experiences they or some member of their family had during or after World War II. To set the stage for a submission by Rick Eagan, let me offer that in the Mediterranean during war operations, I was the conning officer of the USS Edison DD-439 when she was assigned to screen the cruiser USS Birmingham CL-62. Birmingham was one of a large group of light cruisers ( 15 six inch guns in five turrets) built during the war and completed fast in order to enter combat. She was a newer Brooklyn or Philadelphia or Savannah. One of Birmingham's sister ships was the light cruiser USS Pasadena, CL-65. Rick Eagan has provided a series of high quality photos that remind us that float plane operations, before, during, and after World War II, had their challenges. These scenes were taken from the USS Pasadena, CL-65, on which Rick Eagan's father was one of the floatplane pilots. He is believed to be in officer khaki, looking on, during the plane recovery in progress, a recovery that was not normal in cruiser/floatplane operations.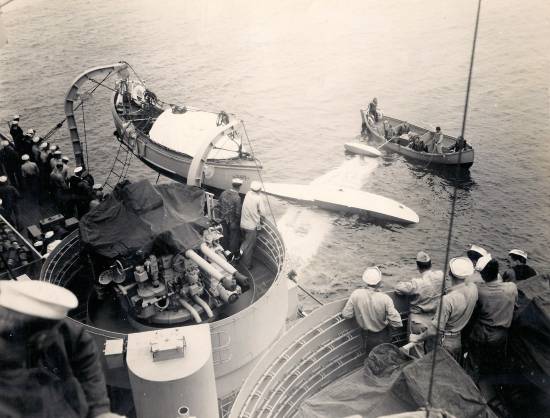 Above: Crewmen of the USS Pasadena, CL-65, look on, as their whaleboat stands by; we ask, Why are the wing floats facing UP?.
Below: As the Pasadena's hoist does its job, its' OS-2U Kingfisher floatplane is at least in the air again!
(But, is this an OS-2U Kingfisher? Sean Hert says "No,." in a piece below after Philip Dailey's OS2U photo.)
We do not know if the uniformed man elevated out of the forward cockpit, has his wings, but he certainly deserves some award for putting his face next to a taut cable. The aircraft shows little damage evidence so I suspect it might have rolled over in an unpredicted swell, with her engine idled or perhaps off entirely.
In the photo below, also supplied by Rick Eagan, we see the landplane version of the OS2U Kingfisher, used mainly to train floatplane pilots before entrusting them to the challenge of landing on water and taking off from catapaults.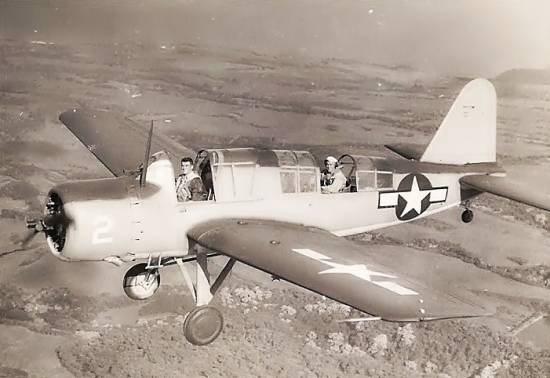 Rick Eagan's contribution ends here. Next, Philip Dailey finds another OS-2U, preserved on a "retired" battleship.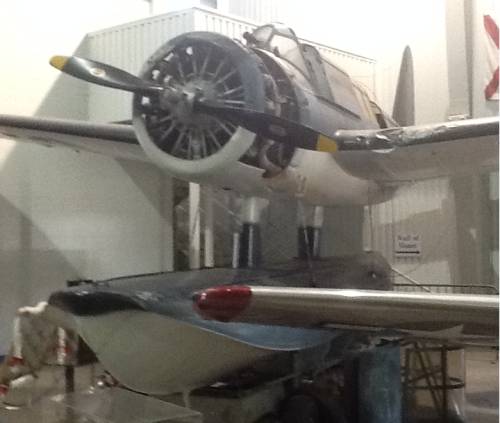 Above, an OS2U Kingfisher "floatplane" on display aboard the USS Alabama at Mobile, Alabama. (Photo by Philip Dailey Feb. 2013)
Sean Hert comments ,via e-mail in late November 2014, on Rick Eagan's assertion that the aircraft getting a non-standard recovery to the USS Pasadena (a few photos above), is really an OS2U Kingfishe!!!.
Here is the text accompanying three photos sent by Sean Hert.
"I am very interested in USN floatplane operations during WW2, and that led me to your site.
In the pictures you have of the flipped plane, I believe you have misidentified a SC-1 as an OS2U.
I have attached a rotated version of the photo, which clearly shows the following;
1. Square Wing tips
2. Single Canopy. It was a single, bubble-style canopy, rather than the "bird cage" of an OS2U
3. Multi-Bladed propeller.
4. Solid static supports for wingtip floats
/The SC-1 was built in much fewer numbers than the other two- however, it was also documented in photos much more heavily than the other two, given the time period in which it was introduced. By 1945, many of the other floatplanes were being replaced with SC-1's, as is evidenced by photographs - SC-1's were introduced to SOSU-3 in October 1944, and started replacing SOC and OS2U's immediately- those planes were from 5-10 years old be then. (See Scout Observation Service Unit 3 War History)
CL-65 (USS Pasadena) was commissioned in 1944 (she was a Cleveland, not a Brooklyn or Philadelphia or Savannah as indicated in the text.) originally with OS2U's."
Here, the float plane being recovered by the USS Pasadena in Rick Eagan's contribution. Sean Hert has rotated that photo.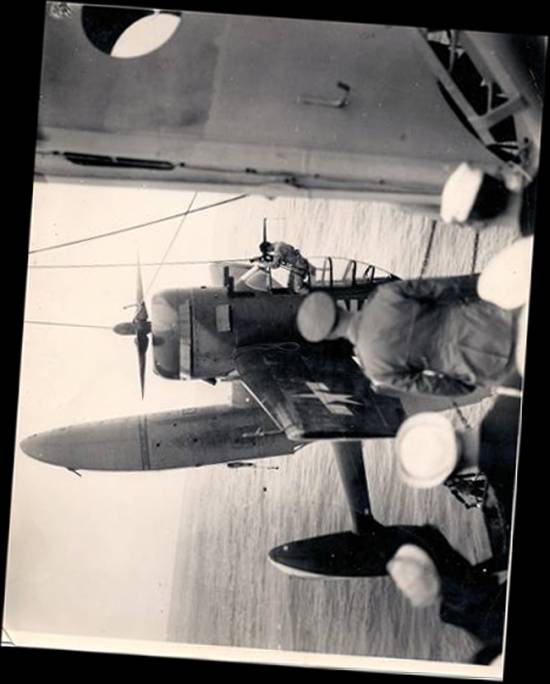 Using photo software, reader Sean Hert rotates the USS Pasadena float plane in Rick Eagan's non-typical recovery..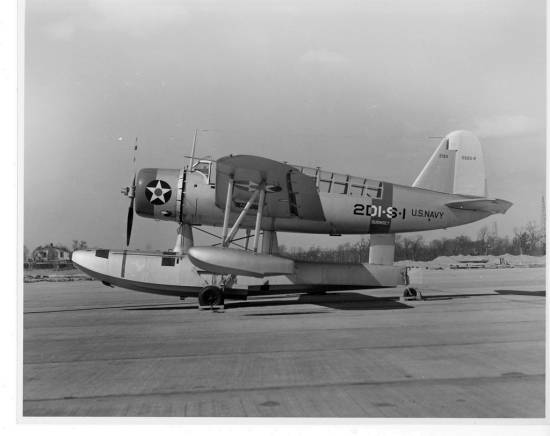 U.S. Navy OS2U gloatplane in a view supplied by Sean Hert for comparison with the USS Pasadena float plane. In the view above, the aircraft canopy is one tipoff, as it covers a forward seat and an rear seat, which the SC-1 in the USS Pasadena recovery photo does not have. Take another look at that cockpit canopy in an SC-1 photo sent along by Sean Hert.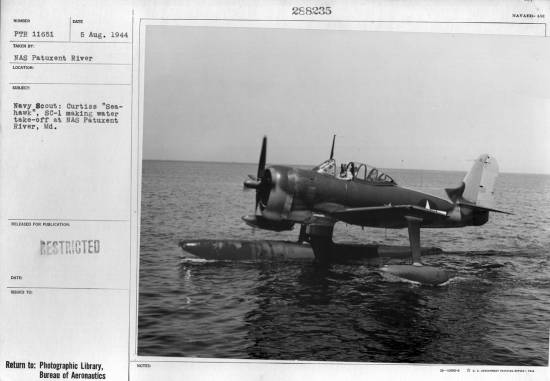 As a clincher, a1944 file photo of an SC-1 floatplane assigned to USS Pasadena! Sean Hert supplied this photo.
The U.S. Navy floatplanes, and the Navy cruisers and battleships that carried them, have all passed into history. We are indebted to history buffs like Sean Hert for keeping their memory alive.
------------------------------------------------------------------------------------------------------------------------------
Ships and Aircraft of World War II(most photos from U.S. Navy WW 2 Recognition Training Slide Set)
Next, we continue are series of photos from the U.S. Navy WWII Recognition Slide Training Set, the source of daily training aboard all ships, for sailors and officers alike, to recognize accurately what ship or aircraft they might see in the distance, and not be surprised, and be enabled to accurately announce identity to shipmates and other ships in company. Those of us who fought the Mediterranean sea war saw many in this next series. The Liberators were quickly brought into North African air bases by USAAF, U.S. Army Air Forces, to attack the oil fields in Rumania and these flights were usually escorted all the way by fighters equipped with extra exterior gas tanks. When not escorting bombers the fighters acted as fighter bombers on shorter low level bombing missions all the way up the Italian peninsula.
In silhouette, the B-17, the backbone of the Army Air Forces' effort to defeat Germany by bombing its factories. Last of the 'tail draggers.' We who were fighting the seawar in the Mediterranean did not often see this aircraft in action. In order to get these planes to England, in numbers, the Army Air Force organized Operation Bolero, to fly them from the Maritimes, to Prestwick, Scotland. This is described in Chapter 7 of the second book pictured in the upper left of this page. What made the inception of almost routine North Atlantic flight a bit more exciting, on most transits a B-17 crew would have a Lockheed Lightning P-38 off each wing, playing tagalong because the latter lacked the instruments and pilot training and range (stops in Greenland or Iceland necessary for these transits) to make the transits by themselves. Of course, once based in England, the P-38s made a name for themselves. We in the Mediterranean did see the P-38s in low level bombing missions and in the first book in the upper left, I describe the tragic descent of one of the P-38s in one mission.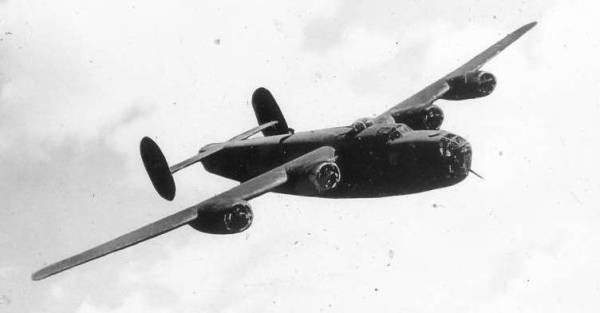 B-24 Liberator. These fought out of England and out of North Africa in World War II, as part of Army Air Force commands. The Navy used this plane out of Dunkeswell, England and out of the Azores, in Anti-Submarine efforts against the U-boats transiting the Bay of Biscay. The Navy also used this aircraft for varied patrol missions in the Far Pacific in World War II. This aircraft was my pilot introduction to four engine flying. Before being replaced by the Navy, I flew, as copilot in training, a plane just like this PB4Y-1. I was based at NAS Hutchinson, Kansas and recall my first 'famil' flight was a short one, to Wichita Kansas. Most of my four engine experience occurred in the PB4Y-2, a single tail version of the Liberator, called the Privateer. Several photos of it are in my flying book pictured at the beginning of this page.
(The 'makeover' of the Liberator to the PB4Y-2 Privateer was qu;ite extensive. Externally, the main flight control configuration replaced the double tail with a high single tail. Some of these made it to North Africa. But the war was almost over in Europe, and in the next modification, the B-24's superchargers in the engines were replaced by heat exchangers because the U.S. Navy was going to use the new Privateer version for ECM work against Soviet radars on the Kamchatka Peninsula and would be based at NAS Kodiak Alaska. Also, the sand filters (remember, North Africa) were removed from the cowl flaps and the cowls were then reshaped to button down tight on the engine nacelles. It got cold in Alaska. Keeping the cylinder head temperatures above 100 degrees C was needed to sustain power.)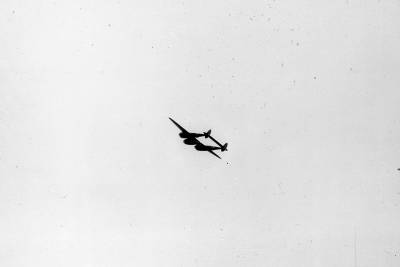 The Lockheed Lightning P-38, fighter and fighter bomber in all sectors of the World War II.
What a beautiful sight in flight. The P-38, our only multiengine fighter and fighter bomber in WW II. Her two props rotated in the opposite direction to cut down torque on takeoff. See another accomplishment of this plane in the discussion of Operation Bolero at the end of the B-17 paragraphs above.